Manual & Motorized Screens Add to Your Comfort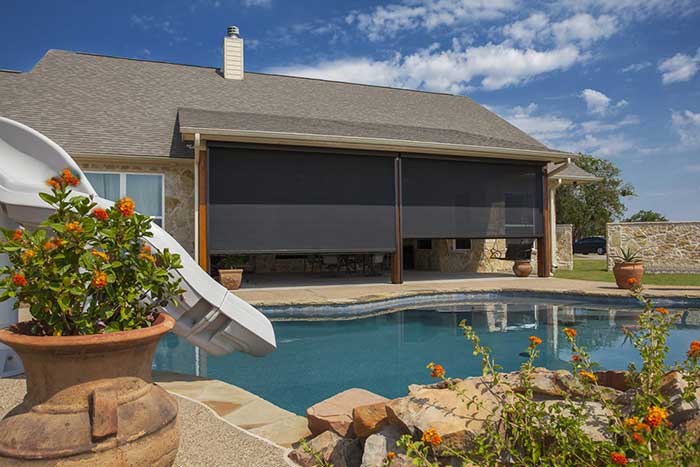 Complete Your Outdoor Living Space
Did you know that motion screens let you conveniently open or close off your exterior living spaces at will, in response to external conditions? If your outdoor living space is not as usable as you'd like it to be, consider installing motorized screens to create protected outdoor areas you and your family can enjoy year-round.
At Home Living Window Fashions, we offer the best in motion screen technology from top brands that we have personally vetted. Our product offerings from reputable, quality-driven companies like Universal Screens and Mirage Screen Systems include a variety of automated and manual systems to meet your specific needs.
Universal Screens' MotionScreen family of products includes:
Motorized retractable screens
Cable-guided motorized screens
Vinyl motorized retractable shades
Arion, a crank-operated manual shading system
Mirage Screen Systems' offerings include:
Motorized screens
Large opening screen doors
Retractable screen doors
Motion Screens Offer Many Benefits
Motion screens let you enjoy the outdoors with a measure of protection against critters and the elements. Whether you select a manual or automated system, motion screens can:
Give you the flexibility to open up or close off outdoor living spaces, as needed.
Let you work in your garage, sunroom, outdoor kitchen or other areas with protection while enjoying great ventilation.
Safeguard you and your family from pests.
Protect everyone against glare.
Provide the level of privacy you want.
We can add motion screens to your patio, porch, balcony, outdoor living spaces, gazebo, veranda, lanai or any other locations where your indoor and outdoor worlds meet.
Contact Us Today
Complete our convenient online form or call Home Living Window Fashions at (925) 434-5177 to get started. We'll be happy to talk with you about the benefits of both motorized and manual screens to give you the information you need to make the right decision. Reach out to us today.