Classic, Practical Plantation Shutters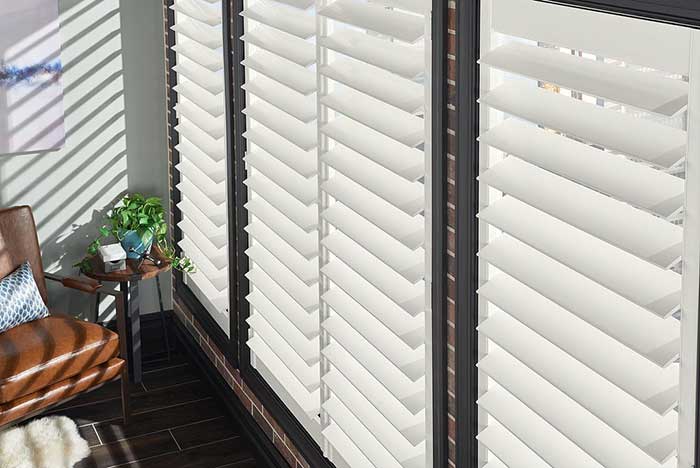 They Never Out of Style
Do your windows need the perfect finishing touch? Consider installing plantation shutters. In addition to being very functional, shutters add elegance to any room while creating a comfortable atmosphere.
Choose from one of our high-quality brands for a long-lasting, low-maintenance window covering solution. You'll be amazed at how easy shutters are to care for, how versatile they are and how they can beautifully transform any space. Home Living Window Fashions installs shutters from suppliers known for great craftsmanship and durability.
Choose from O'Hair plantation shutters made from hardwood, or Sunburst Polywood Shutters' products recognized for being a highly energy-efficient option. These brands are made in the USA and come in different styles and colors to create your desired effect.
Benefits of Plantation Shutters
In addition to being very attractive window treatments that last, plantation shutters offer a wide range of functional benefits. They include:
Energy efficiency
Privacy
Durability
Flexible light control
Customization
Easy maintenance
Insulation
Sound barrier
Increased home value
With many sizes, configurations and finishes available, shutters give you the freedom to create the look you've always dreamed of.
Our installers are experienced with shutters and know how to correctly fit them over windows with precision. Whether you're adding shutters to your home for the first time or you are replacing worn, outdated ones with superior products, our crews will complete the installation job professionally, to your satisfaction.
Contact Us Today
Allow Home Living Window Fashions to put our shutter expertise to work for you. We'll customize designs for a precise fit. To start looking at options that will give your window the classic, timeless beauty that shutters provide, fill out our online form or give us a call at (925) 434-5177. With our exceptional shutter products and qualified designers and installers, you'll be able to live better by design.